---
"What has Christianity to do with Criminal Law?"
Peter Wosnik
---
Released in 2020 by Routledge Press, Christianity and Criminal Law provides a veritable trove of insights into this important area of study. Not only does the work show the historical influence of Christianity on the development of modern criminal law itself, it also demonstrates the potential and potent ways in which Christianity does and could shape the law. And, given that the mission of this blog series is to explore issues of criminal law and religion, a review of this important work is in order.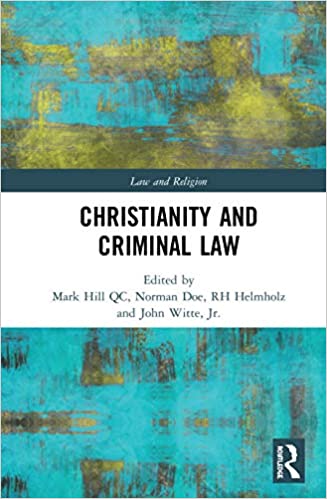 Christianity and Criminal Law casts a wide net in terms of methodical approaches to its subject matter. Marshaling not only legal practitioners and jurists, it also features scholars from diverse disciplines such as law, history, biblical studies, theology, and more. While an excellent reference book, a collection of essays of this breadth does not offer a systematic or overarching approach to the subject matter. Nor does it offer a sustained treatment of any one topic. Still, the volume is packed both with insights and potential new avenues of study alike.
The book begins with Brent Strawn's chapter "Criminal Law in the Old Testament" which gives a "brief introduction" to criminal law in the Old Testament "within its cultural environment." Strawn notes that one of the interesting differences between the Old Testament and other jurisprudence in the Near East of the time is the divine law element — namely, that the law in the Torah comes from deity directly and not from a monarch or ruler (17). Another difference that he notes, in a discussion of biblical passages regarding homicide, is the Torah's concern with intentionality (essentially, mens rea) where "Ancient Near Eastern law does not express the same level of concern…" (25). Similarly, in his chapter on mens rea, McIlroy points out that both the Christian and Islamic legal traditions were influenced by Mosaic law rather than Roman law (132). McIlroy also contends that both the civil and common law systems "derived their concepts of criminal responsibility as requiring a personal, voluntary, and culpable act."
Markus Bockmuehl's chapter —"Conflicting Criminal Jurisdictions in Early Christianity" — opens with the trial of Jesus as a means of discussing early Christianity and its relationship to the secular legal systems. Bockmuehl notes that Jesus was convicted by the overlapping jurisdictions of Jewish and Roman criminal law, albeit on different charges. The historical memory of these miscarriages of justice, Bockmuehl argues, "left an enormous footprint on the cultural history of Christendom, indelibly imprinting on it an expectation – if not always the delivery – of the scrupulous machinery of a fair trial for all, especially the guilty, and even perceived enemies of the people" (38). Yet Bockmuehl points out that the Apostle Paul, in his Letter to the Romans, taught that the Roman government was instituted by God to "execute wrath on the wrongdoer" (42).
In a chapter considering modern ethics, Nathan S. Chapman asks what relationship a Christian ought to have to secular government. He frames his inquiry as follows: "How can a follower of Jesus, who taught his disciples to 'turn the other cheek' and who himself was unjustly convicted by a Roman kangaroo court, participate in the State's punishment of wrongdoers?" (332). He discusses the various ways in which Christians have answered this question throughout the centuries, dividing themselves largely into camps: as separatists (usually pacifists) or as two-kingdom proponents (those who believe in the government's legitimate role in punishing wrongdoers as well as the primacy of a higher power). Chapman ultimately arrives at a third alternative which is to be skeptical of government power but nonetheless recognize it as used by God and worthy of Christian participation. As such, he advocates for the Church to consider secular judgment in more merciful ways (337).
Continuing in the historical perspective, R.H. Helmholz's contribution, "Crime and the Canon Law," seeks to show through the development of canon law that the Christian religion has influenced our criminal law in important ways (47). Helmholz explains how canon law and criminal law had much overlap due to similarities between sin and crime (50). He argues that there are three contributions canon law has made in helping to shape modern law: first, canon law sought to positively shape human behavior towards moral ends; second, it transmitted "basic notions of procedural fairness," such as proportionality between a given crime and its corresponding punishment; and, third, that it influenced the law of criminal sanctions. Regarding law's moral purpose, Helmholz contends that criminal law continues to exercise a moral function in the crimes of bestiality, child pornography, loitering, and the use of narcotic drugs, where the harm reasoning for their illegality is more attenuated (56). While many of these moral crimes do not have a genesis in canon law, he cites an interesting "hold-over" example of public-drunkenness that does. Interestingly, the crime does not require proof of harm to another individual yet continues to be a common crime on the books in many jurisdictions (57). Richard Garnett makes a similar observation in his chapter on criminal attempt and complicity, discussed later.
In Professor John Witte's fascinating chapter, which focuses on the history of sex crimes in Christianity, he demonstrates the large amount of sex crimes that were regulated by both church and state for two millennia. These crimes, he explains, have been "eclipsed" by the rise of sexual liberty in both constitutional law and cultural norms (221). Where historic crimes such as adultery, fornication, sodomy, and many more have been struck down — and crimes such as polygamy and incest are becoming the subjects of cultural battles — the only sexual crimes that have strengthened recently, he argues, are those related to rape, crimes against children, stalking, and sexual assault (ibid). While Witte does not wish to return to a "neo-Puritan" world of sexual morality, he avers that not "all sex crimes listed in the Bible and articulated by the Christian tradition are now just relics of a bygone age" (232). Many of the traditional sex crimes, he continues, were "infused with prudential and practical concerns that remain important for criminal law today" such as "concerns for the person, property and the reputation of victims and other third parties; for rights, liberties and interests of defendants, victims and their families, for the health, safety, and welfare of the community; and more" (233). Rather than recriminalizing various kinds of sexual conduct that can be harmful to women, children, and society, Witte cites the work of Cass R. Sunstein and Richard H. Thaler on the concept of "nudging." "Without encroaching on sexual liberty," Witte explains, "the modern State can 'nudge' citizens to integrate their sex, marriage and family lives as a public and private good to which they aspire" (234). In Witte's view, both the Church and the State should play a role in shaping the moral conduct of the polity as opposed to recriminalizing historical crimes.
In a similar vein, Richard W. Garnett's contribution "Attempts, Complicity, Virtue and the Limits of Law" considers the role of virtue in criminal law, which he argues is "inclined more towards proscribing acts than prescribing character, more towards forbidding bad conduct than facilitating good character, more towards deterring decisions than transforming selves." In analyzing the law of criminal attempt and complicity, Garnett finds a place where the law at times assigns blame or liability for offenses where the perpetrator is "not even partially responsible for causing a social harm or for engaging in or contributing to conduct that is wrong in itself" (240). While seeing examples of moral teaching in criminal law that are "central to and informed by Christianity," he also views the limits of law, "this side of Heaven," as a Christian concept as well (249).
In the last section of the book, several of the authors examine punishment and its relationship to concepts such as justice, forgiveness, mercy, equality, and others. These chapters are illuminating for how Christianity might shape or influence law. Furthermore, these chapters are especially relevant given the conversations about criminal justice reform which abound today. Jeffrie G. Murphy, for example, asks in his essay whether Christians should abandon "punishment in a spirit of Christian love, forgiveness and mercy" (269). While Murphy believes that Jesus and Paul never condemned the use of punishment itself, it is arguable that they did condemn "an attitude of dismissive contempt of those who have done wrong and thus a tendency to stop thinking of them as part of the human community and as sinners, like the rest of us, for whom redemptions and salvation should still be hoped" (270). To achieve a more just system of criminal punishment, Murphy pushes for a punishment constrained by the Christian virtue of humility, which, in his view, would lead to more rehabilitative, rather than retributive, forms of punishment (279-280). Albert W. Alschuler's chapter looks at the challenging problem of mercy and equality in criminal justice, particularly with respect to the pardon power, and considers whether or not it is fair or just for officials to use that power (285). Sir John Saunders analyzes the relevance of Christianity to issues of parole and risk assessment for offenders. Finally, Daniel Philpott's chapter considers how a Christian ought to see punishment in the event of large-scale human rights violations and its political aftermath. Philpott critiques utilitarian and retributivist theories of punishment, and instead opts for a Christian theory of "restorative punishment," which he argues is a better alternative, especially as applied to large-scale human rights abuses (323).
Christianity and Criminal Law is ultimately a welcome and much needed addition to the study of criminal law and religion, as it demonstrates just how rich and deep this area of inquiry can be. One of the most fascinating insights, addressed by multiple authors, is criminal law's historic and arguably modern function of instilling morality within the polity. Could criminal law take a more moral (prescriptive) and less prohibitive (proscriptive) turn? To be sure, further work remains to be done here, but Christianity and Criminal Law presents such promising avenues of study. Ultimately, the volume demonstrates how Christian teaching and doctrines could shape modern law in just and equitable ways, a contention which could come as a surprise to some readers. For that reason, Christianity and Criminal Law will be a valuable book for both the religious and secular alike.♦
---
Peter Wosnik is the owner and founder of Wosnik Law, LLC, which is a trial-based law firm serving the Metro Atlanta area. Wosnik is a graduate of Emory University School of Law (Juris Doctor) and Candler School of Theology (Master of Theological Studies) where he received the Savage-Levey scholarship in law and religion.
---
Recommended Citation
Wosnik, Peter. "What has Christianity to do with Criminal Law?" Canopy Forum, February 21, 2022. https://canopyforum.org/2022/02/21/what-has-christianity-to-do-with-criminal-law/.