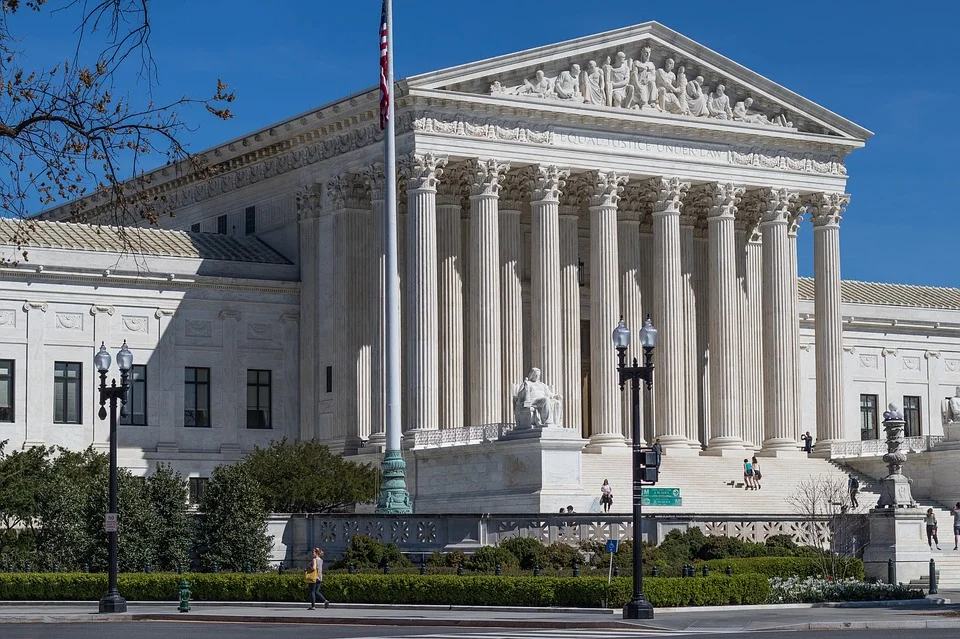 Judge Ketanji Brown Jackson's religious liberty opinions won't bother most American Jews
---
Michael Helfand
US Supreme Court Building by Mark Thomas on Pixabay.
This article first appeared in the Forward, the nation's leading Jewish news organization. Sign up here to get the Forward's newsletters in your inbox.
---
President Biden has nominated Judge Ketanji Brown Jackson to fill Justice Breyer's seat on the Supreme Court. The nomination is no doubt historic: If confirmed, Judge Jackson would be the third Black Supreme Court justice and first Black woman to serve on the Supreme Court.
When it comes to matters of church and state, issues that have been front and center in recent Supreme Court nominations, Judge Jackson's record is sparse — she has not issued a significant number of opinions on hot-button topics.
American Jews have long worried about the interpretation and application of the First Amendment's religion clauses, which provide meaning to the dual constitutional principles of religious liberty and the separation of church and state.
What we do know thus far indicates that Judge Jackson has a relatively standard and progressive commitment to the legal protections afforded faith and its role in public life. Her engagement with questions of law and religion, for now, seem the kind of balls-and-strikes decisions you would expect from a federal judge.
In 2017, Judge Jackson issued an opinion allowing the religious discrimination claims of a United States Postal Service employee to go forward.
In that case, Judge Jackson noted that the plaintiff, who was representing himself, properly alleged that his playing of gospel music at work led to confrontations with his supervisor and that his position was subsequently abolished. Judge Jackson's opinion is straightforward, noting that, according to the plaintiff, other employees had been allowed to play secular music, providing sufficient grounds to support the religious discrimination claim pursuant to Title VII of the 1964 Civil Rights Act.
In 2014, Judge Jackson, along with the rest of the D.C. Circuit's judicial council, dismissed complaints of judicial misconduct against Judge Edith Jones, a federal appeals court judge. The complaints included that, in a law school lecture, "Judge Jones advocated her personal religious views as a basis for justifying the death penalty."
A special committee concluded that Judge Jones had prefaced her remarks by emphasizing the difference between her personal views and her obligations as a judge, and noted that "It is not unusual for serious discussions of the morality of the death penalty to address religious arguments on the subject."
The judicial council—including Judge Jackson—concluded, on the basis of the special committee's recommendation, to dismiss the complaint against Judge Jones.
A more provocative vignette comes from Judge Jackson's confirmation hearings, when she was nominated in 2021 to serve on the D.C. Circuit Court of Appeals — not for what it illuminates about Judge Jackson, but for what it reveals about the current political moment.
Judge Jackson previously served as an advisory school board member for the Montrose Christian School, which included among its stated beliefs that Christians should oppose homosexuality, speak on behalf of the unborn, and believe that "[m]arriage is the uniting of one man and one woman in covenant commitment for a lifetime."
Senator Josh Hawley asked Judge Jackson about this affiliation, seizing the opportunity to both ask Judge Jackson about her commitment to religious liberty and to note that Justice Amy Coney Barrett, during her confirmation, had been criticized for her affiliation with Trinity Schools, which held similar positions.
Judge Jackson responded that she was not aware of Montrose Christian School's statements on those issues, and affirmed her commitment to religious liberty as a constitutional principle enshrined in Supreme Court precedent.
The exchange was, in many ways, far more theater than substance. But maybe the fact that conservative criticism of Judge Jackson's church-state views is more about Justice Barrett's treatment and less about Judge Jackson's own views is significant in its own right.
If confirmed, Judge Jackson's jurisprudential orientation will likely gravitate left-of-center. But her expressed commitments with respect to church and state provide little reason to presume she will unsettle the Court's current First Amendment doctrine. ♦
---
Michael Helfand is the Brenden Mann Foundation Chair for Law and Religion, Vice Dean for Faculty and Research, and Co-Director of the Herbert and Elinor Nootbaar Institute for Law, Religion and Ethics at Pepperdine Caruso School of Law; he also serves as Visiting Professor and Oscar M. Ruebhausen Distinguished Fellow at Yale Law School as well as Senior Research Fellows at the Shalom Hartman Institute.
---
Recommended Citation
Helfand, Michael. "Judge Ketanji Brown Jackson's religious liberty opinions won't bother most American Jews." Canopy Forum, April 1, 2022. https://canopyforum.org/2022/04/01/judge-ketanji-brown-jacksons-religious-liberty-opinions-wont-bother-most-american-jews/