Acknowledging the Moral Courage of Refugees and Responding in Kind
Jason Grubbs
Pixabay (License)
During a speech at the United Nations on September 23, 2019, President Trump stated that "protecting religious freedom is one of my highest priorities." This claim, however, has some advocates of threatened religious minorities crying foul. They argue that Trump has not made good on his promise, citing his ever-shrinking limit on the yearly number of refugees admitted into the United States. Trump has proposed decreasing this year's limit even further, from 30,000 to 18,000 refugees, which would result in an 84% decrease from the limit imposed during the last year of the Obama administration, when the number of refugees to be accepted into the United States was capped at 85,000. This drastic reduction, which is taking place in the midst of the highest recorded number of people fleeing violence and persecution worldwide since World War II, is jarring and will no doubt make it even more difficult for persecuted religious minorities across the globe to find a safe haven from violence.
One such refugee advocate critical of Trump's tightening refugee policy is Bishop Michael Rinehart of the Lutheran Immigration and Refugee Service. Rineheart has called the policy "an abrogation of who we are and all that we stand for as a nation." He argues that "[t]his decision means that thousands of people, including those fleeing violence and war, and those fleeing religious persecution, will continue to be left in harm's way." Among the religious minorities impacted by the policy shift are Christians from countries such as Iran, Syria, Pakistan, and Iraq; Yazidis from Iraq; and Shiite Muslims from Syria. It is noteworthy that these very same religious groups are among those that Trump declared were targets of "genocide" by the Islamic State in August of 2017. Pari Ibrahim, executive director of the Free Yezidi Foundation, called the cuts to admission of Yazidis from Iraq "ridiculous," citing a drop from 434 admissions during the last fiscal year of the Obama administration, to only five admitted Yazidi refugees in fiscal year 2018 and twenty in fiscal year 2019. Ibrahim noted that "[t]he genocide is still ongoing," and questioned whether Trump's pledge to protect religious freedom was "all just talk," stating that Yazidis deserve the opportunity to freely practice their religious beliefs.

Likewise, the number of Muslim refugees that the Trump administration has permitted to enter the U.S. has dropped sharply over the past two years. The number of admitted Muslim refugees rose some in fiscal year 2019, but the roughly 4,900 Muslims admitted that year still contrasts sharply with the nearly 20,000 admitted in fiscal year 2017. By comparison, about 23,800 (79%) of the 30,000 refugees admitted in fiscal year 2019 were Christians, while around 4,900 (16%) were Muslim.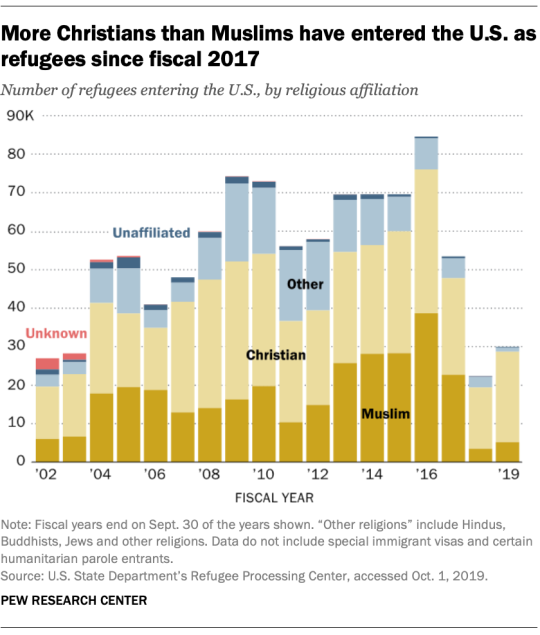 The U.S. State Department has committed to reserving 5,000 refugee spots specifically for religious minorities. But some have raised questions about whether those spots will be filled equitably in relation to the religious affiliations of refugee applicants. "The only country from which the number of refugees admitted into the U.S. has increased significantly under the Trump administration isn't even one of the [United Nations High Commissioner for Refugees]'s places 'of concern': Ukraine." As of September 20 of fiscal year 2019, Ukrainians made up the third-largest refugee group entering into the US. The high number of Ukrainian refugees admitted can, at least in part, be explained by the Lautenberg Amendment, which was passed by Congress in 1990 to make it easier for Christians and Jews facing religious persecution in the former Soviet Union to obtain refugee status in the United States. The amendment notably lowers the burden of proof that must be shown by most refugees, requiring that Lautenberg applicants only show that they belong to a religious minority and have a reasonable fear of facing persecution – a standard of proof that is substantially lower than those facing other potential refugees. The recent influx of Ukrainian refugees have mainly been comprised of Pentecostal Christians. While their reasons for fleeing their home due to war in the eastern part of Ukraine appear to be entirely valid, the religious makeup of this group of refugees receiving increasingly more admittance into the US appears concerning when considered alongside the comparative drop in the number of Muslim refugees that have been accepted. In light of this, allegations of the Trump administration's inequitable preference for evangelical Christians over that of other persecuted religious minorities does not seem out of hand.

The Trump administration's continued restriction on the ability of religious and ethnic minorities to flee violence and persecution is troubling, especially because refugees and asylum seekers should be regarded not merely a "naked" and pitiable individual, but rather courageous moral actors boldly seeking to extricate themselves and their loved ones from situations and environments that threaten their well-being and liberty of conscience. 1Silas W. Allard, "Reimagining Asylum: Religious Narratives and the Moral Obligation to the Asylum Seeker," Refuge: Canada's Journal on Refugees 29, no. 1 (2013): 121–29, 124. The refugee, therefore, stands on equal ground with the state, one moral agent making a request of the other. The state as a moral actor is then compelled to respect the courageous act undertaken by the asylum seeker and to acknowledge their dignity by providing them refuge.

Conservative evangelical Christians, a strong base of support for the Trump administration, could work as powerful advocates on behalf of religious minorities seeking refuge, especially given the parallels to the compelling Old Testament account of the Exodus. Silas Allard has suggested that discourses around refugee support should be framed by our collective regard for the Bible's narrative of the Israelite's flight from Egypt as a story admired for its audacity in the face of oppression and overwhelming power structures.2Allard, "Reimagining Asylum," 124–25. Guided by God, the Israelites are not seen as cowards fleeing their unfortunate circumstances, but rather as strong moral actors challenging their fate and finding salvation in their obedience to a higher moral calling. If Christians, and perhaps especially evangelical Christians whose votes Trump is so reliant upon, could utilize the Exodus story in support of today's exiles fleeing persecution across the world, perhaps the present administration would have no choice but to acknowledge the strong moral fortitude of the many refugees seeking shelter from their oppressors.

In a similar vein, John Witte and Justin Latterell point to Jesus' call to his followers to practice compassion for "the least of these" in their discussion on the inspiration for modern-day human rights theories found within Judeo-Christian scripture. 3John Witte, Jr. and Justin J. Latterell, "Christianity and Human Rights: Past Contributions and Future Challenges," Journal of Law and Religion 30, no. 3 (2015): 353–75, 364. Jesus taught Christians to "feed and care for the poor, widow, and orphans in their midst" and to "visit and comfort the sick, imprisoned, and refugee." These honored tenets of the Christian faith apply directly to the issue of showing mercy to those seeking refuge. While the constitutional separation of church and state surely prohibits the government from blatantly establishing biblical teachings as the source of its refugee policy, this does not prevent Christians or any other private citizen who finds ethical merit in the teachings of scripture from advocating for such a religious approach in the public sphere.

Finally, those who advocate on behalf of refugees seeking safety from persecution can be regarded as actively responding to the "prophetic call" described by Cornel West.4Cornel West, "Prophetic Religion and the Future of Capitalist Civilization," in The Power of Religion in the Public Sphere, ed. Eduardo Mendieta and Jonathan VanAntwerpen (Columbia University Press, 2011):92–100, 100. According to West, refugees exhibit the "enabling virtue" of "courage" that "bear[s] witness" to the need for greater justice within the great violence, oppression, and inequality that grips our world. The prophetic call must be heeded in all areas of life, but perhaps especially in the public sphere where the "logic of superabundance" calls people of good moral conscience to love and care for not only those neighbors immediately around them but also for those coming from afar fleeing violence. If these treasured values can be expressed effectively in the political sphere, then perhaps there is hope for our government to adopt a more compassionate stance towards granting safety to the many refugees seeking shelter.

---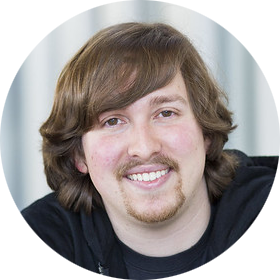 Jason Grubbs is a second-year student at Emory University School of Law and a graduate of Candler School of Theology. His areas of interest include the intersection of law and religion, civil and human rights, and criminal justice reform.
---
Recommended Citation
Grubbs, Jason. "Acknowledging the Moral Courage of Refugees and Responding in Kind." Canopy Forum, February 20, 2020. https://canopyforum.org/2020/02/20/acknowledging-the-moral-courage-of-refugees-and-responding-in-kind-jason-grubbs/