SCOTUS Religion Cases:
A New Online Database for Scholars of Law and Religion
---
Justin Latterell and Rachel Kennedy
Picture of the US Supreme Court by Ian Hutchinson on Unsplash.
The newest edition of Religion and the American Constitutional Experiment is supplemented by a powerful new research tool: SCOTUSreligioncases.org.
---
Building a free online database of First Amendment religion cases
I first encountered Religion and the American Constitutional Experiment in 2006. Then in its second edition, John Witte's book was a careful study of the history and evolution of the First Amendment's religious liberty clauses. The second and subsequent editions of the book have proved invaluable for my scholarship and teaching.
Religion and the American Constitutional Experiment is useful, in part, because it is uniquely interdisciplinary and comprehensive. It offers not just an interpretation of recent Supreme Court precedents, but a holographic analysis of how religion and law have interacted in the United States over time, mutually shaping one another via the constitutional "experiment" of protecting the free exercise of religion while also forbidding laws "respecting an establishment of religion." The book shows how Americans' historical experiences together with a wide spectrum of political, theological, and legal thought gave rise to the Supreme Court's religion jurisprudence. And it poses probing questions about the future of religious liberty in a changing society.
The book also contains a hidden gem in its back pages: an unassuming 30-page appendix listing out the Supreme Court's religion cases since 1815. "Appendix 3" lists cases chronologically and classifies them according to their central legal issues – from prayer in public schools to religious property disputes and many others. It also summarizes the Court's holding in each case with a pithy sentence or two. In short, Appendix 3 functions like a sort of Cliffs Notes to the United States Reports. In my copies of the book, those thirty pages are dog-eared, highlighted, and otherwise heavily used.
That is why I am so excited about the new online supplement to Religion and the American Constitutional Experiment (5th ed.), in which the book's coauthors, researchers, and a team of web developers have transformed Appendix 3 into an online repository for scholars and students around the world.
The SCOTUS Religion Cases (SRC) database is an open-access research tool that includes volumes of data, case summaries, and searchable PDFs of 244 (and counting) Supreme Court rulings from 1815 through the present day. Researchers and students can now use this tool to easily search, sort, download, read, and otherwise study the Supreme Court's religion jurisprudence. The SRC database includes the following information about each case:
Case name
Case issue
Case citation and date
Text of the Supreme Court's opinion(s) from U.S. Reports (downloadable PDF)
Summary of the Court's holding/ruling in each case
Name of the justice(s) who authored the Court's rulings
Ratio of justices who supported or dissented from each opinion
Religious tradition involved
State or territory of origin
Is the legal question(s) related to the free exercise and/or establishment clause?
Is the law in question a local, state, or federal law?
Penultimate court of appeal
Penultimate court rulings (downloadable PDF)
Our team of researchers collected, analyzed, and organized these data and documents from sources in the public domain over the past year. And the digital scholarship team at Emory's Center for the Study of Law and Religion, led by Dr. John Bernau, worked closely with Emory's Center for Digital Scholarship to build the online database and search tools.
The result is a comprehensive, centralized repository of court rulings that doesn't require a subscription to existing legal databases that are often unaffordable and inaccessible to many scholars, law firms, students, and researchers.
Compiling, organizing, formatting, and publishing these data and documents required much time and effort. Collecting good data is hard, and historical data notoriously refuse to fit neatly into predefined categories. In the following section, Rachel Kennedy, a member of the SRC research team, describes our team's process of building the SRC database.
---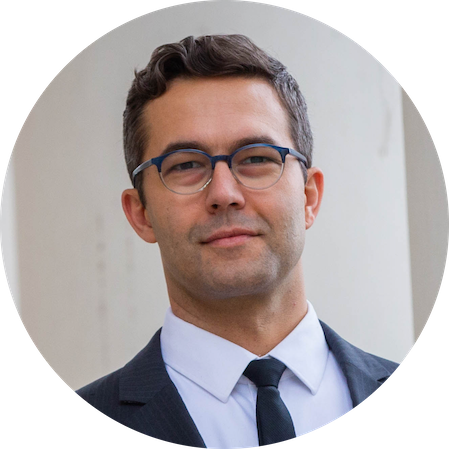 Justin Latterell is Director of Academic Programs at the Center for the Study of Law and Religion at Emory Law School. An expert in law, religion, and theories of secularization, he holds the Ph.D. from Emory University.

---
Researching the Database
Last summer I had the rewarding experience of working alongside graduate student researchers from Emory, Notre Dame, and St. Thomas to create the SRC database.
We started with the following question: How could we reimagine Appendix 3 as an accessible and useful interactive digital tool? We conducted market research to ensure we were not recreating the wheel, reflected on our own research experience and expertise, and developed a list of metadata categories that researchers could use to search, filter, and sort the cases.
After identifying our preliminary metadata categories, we began the data collection phase. Our team downloaded PDFs of every Supreme Court religion case from the Library of Congress and divided up the work of reading, analyzing, and recording information about each Court ruling. We focused on identifying the state or territory of origin of each case; the religious tradition involved; whether the case concerned a religious individual or institution; whether the challenged government action was a product of local, state, or federal law; and whether the case primarily involved the Free Exercise Clause or Establishment Clause.
As we independently gathered data on our assigned cases, our team met regularly to discuss questions, obstacles, and best practices; to compare notes; and to check one another's work. This routine proved critical. We quickly discovered difficulties and discrepancies in how we collected and organized our data. For example, the SRC database includes information about the religious affiliation or membership of the parties involved in each case. However, some litigants do not fit neatly into predefined religious categories, and some of the Court's rulings and briefs do not identify litigants' religious affiliation at all.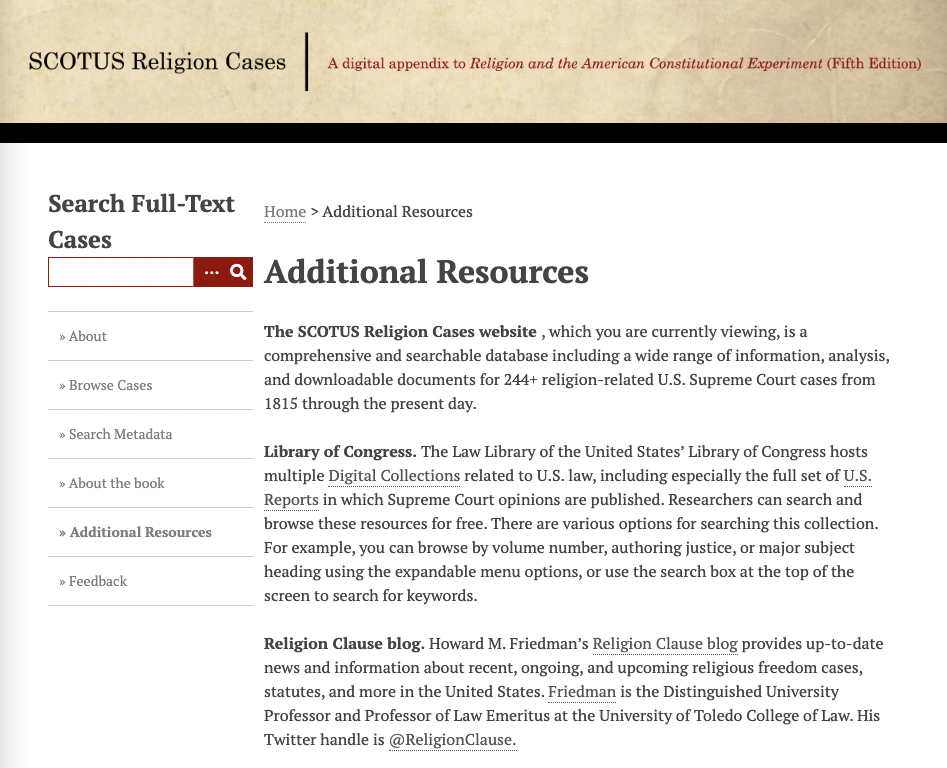 Our weekly meetings helped surface and resolve these issues while providing an opportunity to continually refine our methods for collecting and interpreting data. This vetting process ensured uniformity of the data set in both form and substance. We also maintained a shared document to continually refine and apply our data definitions/classifications, a concise summary of which can be found here.
Once the data set was finalized, Dr. John Bernau, the Director of Digital Scholarship at Emory's Center for the Study of Law and Religion, worked with the Emory Center for Digital Scholarship to develop a tool for publishing, searching, and downloading the data our team had compiled. The final result is the SRC website, where more than two hundred years of court cases can now be searched, sorted, downloaded, and more. My personal favorite feature is the "Search Full-Text Cases" in the top left corner of the website, which allows users to search the text of these rulings for keywords and case names. The SRC website also lists a wide range of additional resources to help our users find other online tools and connect with research centers and scholars around the world.
In hindsight, one of the main lessons I took away from this project is that attempting to divide the Supreme Court's cases on religious freedom into neatly defined categories was no simple feat. The process generated numerous questions, such as how to delineate "religion" and "nonreligion" and how to categorize overlapping Free Exercise and Establishment Clause claims.
Such nuance and room for interpretation is part of the reason that this area of law is so fascinating to explore, and why the fifth edition of Religion and the American Constitutional Experiment, together with the new SRC database, is so valuable. I hope this tool will serve as an accessible platform for future researchers and curious minds to further investigate these cases and questions. ♦
---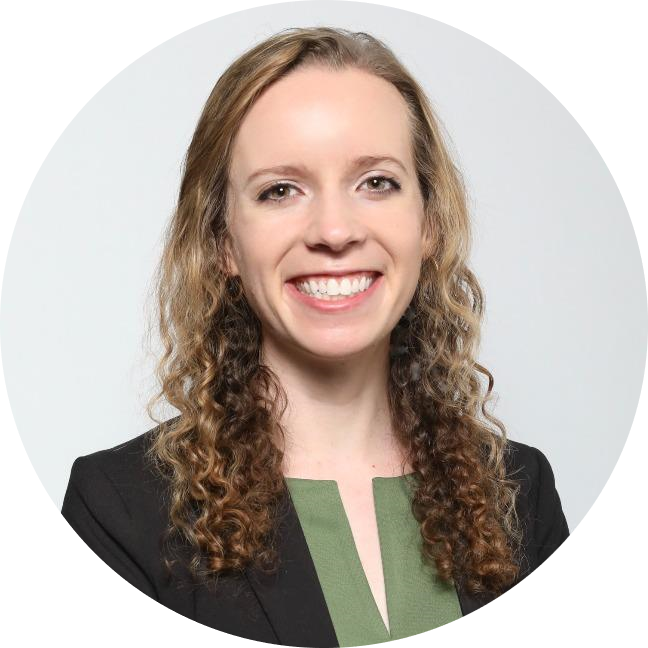 Rachel Kennedy is a law student at Emory University School of Law. In addition to her work on the SCOTUS Religion Cases database, Rachel has been a legal fellow at The Human Trafficking Legal Center, and a Judicial Extern to the Honorable Steven D. Grimberg (US District Courts). She is presently a student attorney at Barton Juvenile Defender Clinic and the Executive Online Editor of the Emory Law Journal.
---
Recommended Citation
Latterell, Justin and Rachel Kennedy. "SCOTUS Religion Cases: A New Online Database for Scholars of Law and Religion." Canopy Forum, June 8, 2022. https://canopyforum.org/2022/06/08/scotus-religion-cases-a-new-online-database-for-scholars-of-law-and-religion/