A virtual conference sponsored by Canopy Forum and the Center for the Study of Law and Religion at Emory (CSLR) featuring scholars, experts and practitioners who will examine issues facing religious congregations, neighborhoods, towns, and cities where houses of worship are falling into disrepair or vacancy. View selected videos and browse all essays here.
---
"Seeking Design Justice: Moving Beyond Church Repair"
Kyle Warren
Benjamin Peterson
---
When narratives about place and property become more restrictive than generative, communities require new frameworks and practices to move beyond conventional, technical renovations that exclusively address material and property concerns. Design justice principles can serve as such frameworks, demystifying exclusionary practices in architecture and making decision-making processes more accessible to those most likely to be affected by their outcomes. These principles can also help religious communities confront troubling histories related to their properties and infrastructures. By reframing conversations about building vacancy and disrepair in terms of justice-seeking processes, faith communities may view architectural renovation and repair as opportunities to engage in both material and social transformations. This essay situates a discussion of renovation as a process for seeking justice. Historical and contemporary examples provide multiple disciplinary entry points that consider the ideological, historical, physical, and human dimensions of architecture's roles in transforming the built environment.
Lessons from Baltimore
The Baltimore Cathedral — Basilica of the Assumption — is recognized as the first church built in America after the signing of the Declaration of Independence. Numerous articles commemorated the 200th anniversary of the cathedral's dedication in 2021. However, the absence of any mention of America's racist histories in constructing and structuring space, or "White Christianity's" participation and identity formation in relation to property ownership, is striking. Property lines in the United States are linked to the racialization of property and conceptualization of "the human."
In "Restoring America's First Cathedral," architect John G. Waite recounts the history and renovation of the building of America's first cathedral. The article was published in the Spring 2022 volume of the Sacred Architecture Journal as part of a collection of essays centered around the celebration of the Baltimore Cathedral. Waite reveals how some of the architect's processes participated in constructing the church's narrative and the idealization of sacred architecture's performativity. By describing the context and Archbishop John Carroll's motivation surrounding the cathedral's construction, Waite sheds light on the founding bishop's vision for the early Catholic Church in the newly independent nation. Reading his account alongside Baltimore Diocese' presiding Archbishop William E. Lori's homily delivered at the cathedral's bicentennial in 2021 shows how the narratives support each other. However, counternarratives about the church's history are challenging to imagine, let alone hear. These narratives should not be viewed as unfortunate incidents that remain in the past and left to be addressed in separate statements on racism, but rather as a sacred rupture of the forces that allow for the duration of antiblack ideals and virtues to persist in unsuspecting places, particularly those identified as sacred and built with benevolence.
At the time of its dedication in 1821, the Baltimore Basilica, alongside the Virginia State Capitol and the U.S. Capitol, was regarded as the epitome of modern architecture in America, symbolizing the new republic's civilizing achievements. However, what remains inadequately addressed are the ways in which the church's symbolism relied on epistemologies formed through slavery and colonialism. As scholar Zakiyyah Iman Jackson explains, these forces "catalyzed the conscription of black people into… racialized conceptions of 'modernity' and 'universal humanity.'" Additionally, Jackson clarifies how slavery's "archival footprint" — which documents the accounting of goods and materials that "placed black humans, horses, cattle, and household items all on the same bill of purchase" — reflects the architectural footprint created by people and materials considered "objects of construction."
The calculation of available resources and the measurement of the building's footprint are part of a system that relied on "this ledger's biopolitical arithmetic — its calculation of humanity — dislocated, depersonalized, and collapsed difference, except in the area of market value." Slavery's archival footprint includes not only the footprints of buildings and their sites, but also the bodies, energies, tools, and materials used in the site clearance and erection of the building. If we consider sacred architecture primarily as a completed building form, we may overlook the extended process of making that is intertwined with histories of exploitation and oppression. The ledger of transactions that accounted for the making of architecture included black people alongside other procured items is also an artifact of the making of sacred architecture. Notably, neither the architect nor the patron occupies a line item in these records.
These events cannot be recollected as if they are distant and antiquated ideas we have transcended. While land acknowledgments and the identification of conquerors and enslavers among our nation's "founding fathers" are important, it's concerning that the goal of these practices may be assumed rather than understood as disruptive to the systems and institutions that persist. The growing calls for equity, inclusion, and justice are accommodated by institutions that adapt discursively but fail to face the possibility of relinquishing control of the given order. For instance, Archbishop John Carroll, America's first bishop and one of the founders of Georgetown University, owned slaves, was the master of others on church-run plantations, and deeded his plantation, the White Marsh Plantation, to the American Catholic Church specifically, to become incorporated into the church's property after he died.
Given these complex histories, how can we view the Basilica's construction within "a landscape of slavery?" To develop a set of analytical tools for contemporary use, it is essential to move beyond a mere denunciation of slavery in general. Instead, we must examine the mechanisms that established and perpetuated a system extending beyond what is broadly referred to as slavery. These mechanisms uphold racialized hierarchies and exploitative practices, particularly those entangled with and obscured by value and virtue, such as those associated with property. The stories of buildings require a direct engagement with the specificities of the site and socio-historical contexts.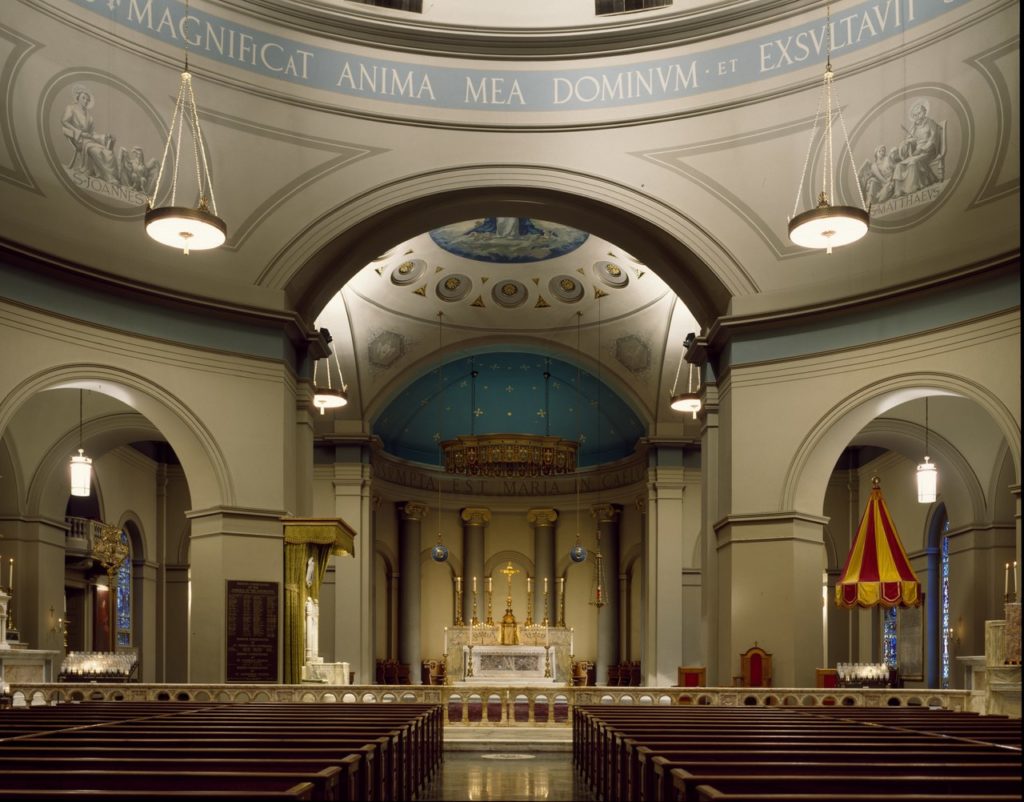 In recent years, there have been resounding demands to foreground equity, inclusion, and justice in all areas of society, including architecture. However, the renovation of the Baltimore Cathedral demonstrates friction between discourses that adapt to these calls without challenging the underlying systems and institutions that persist. While the renovation of the Cathedral seeks to reinforce its symbolic presence as a house of worship — celebratory declarations resound in public events and award ceremonies — it does little to challenge the underlying power structures that enabled its construction in the first place.
Design Justice Frameworks
Buildings are not just physical structures. As noted above in the story of Baltimore's Basilica, they also represent and materialize the ideologies, philosophies, and theologies of the individuals involved in their making. As Fallow, a multidisciplinary collaboration, our work operates between theory and practice; we are interested in uncovering how decisions about space are made and how those decisions implicitly or explicitly carry certain values or ideals into the world. Methods that interrogate sociohistorical contexts and speak to the hidden processes of architecture, such as those demonstrated by the organizers of the 2021 MoMA exhibition Reconstructions: Architecture and Blackness in America, "MoMA's first exhibition to explore the relationship between architecture and the spaces of African American and African diaspora communities." The creative thinkers included in this work remind us of the ways in which State, religious, and cultural architectural projects are emblematic of the "centuries of disenfranchisement and race-based violence… embedded in nearly every aspect of America's design."
Design justice principles provide a generative starting point for many contemporary spatial design practices. An evolving set of ideas that frame multiple design disciplines, including architecture, design justice principles "challenge designers to think about how good intentions are not necessarily enough to ensure that design processes and practices become tools of liberation, and to develop principles that might help practitioners avoid the (often unwitting) reproduction of existing inequalities." These principles help designers to reflect on decision-making at multiple phases of a design project. From project scoping to construction, design justice principles encourage a more intentional engagement with questions about who stands to benefit or incur harm as a consequence of decision-making.
In a publication from 2018, author and activist Sasha Costanza-Chock articulates a series of questions about how design processes currently operate with foresight about how they might be transformed. Through an intersectional, feminist lens, Costanza-Chock pushes designers to reflect on the procedural (how design happens), distributive (how are risks, burdens, benefits, and accountabilities shared), and narrative (what stories and values get encoded in decision-making) frameworks of justice in the built environment. In explaining these principles, they encourage designers to foreground practices that resist the reproduction of inequitable political economies at all phases of a project's duration. As with any framework, design justice approaches are not monolithic and are continually open for critique and adaptation. For those unfamiliar with the wider conversation, an inventory of these principles may be accessed via the Design Justice Network.
Faith-based communities that are challenged by buildings in disrepair or needing renovation may find relevance in all of these principles. As a collection, they provide a robust framework to ensure that design processes and their outcomes are inclusive, accountable, and working actively against the reproduction of social inequity. Some ideas may be particularly resonant with faith-based communities and institutions. Design may be a vehicle to sustain, heal, and empower communities that encounter the physical spaces of faith-based institutions as extensions of their missions and values. Design practices seeking justice also center the voices and perspectives of those most likely to be impacted by the outcomes of the design process and those who may have been affected by troubling histories associated with a building and its institutional affiliations. Design justice lenses view change and transformation as emergent from an accountable, accessible, and collaborative process. On-going dialogues build trust and help create a sense of ownership, stewardship, and investment within renovation or repair processes.
Beyond symbolic or aesthetic registers, decisions about space-making can be deployed in ways that acknowledge how spatial organization has historically choreographed and codified inequitable social hierarchies. Design justice as a process and practice is iterative – gestures build refinement through a critique of systems such as economies of human and material exploitation and extraction. Stages of a design process, inevitable in the engagement with making or remaking buildings, involve difficult decisions that require conceptual or ideological lenses. "Why should we choose to design this over another option?" Design justice frameworks might be useful in articulating the ways in which values and ideas are made material and experiential in the built environment.
Institutional constraints are familiar territories for architects; although religious institutions bring added layers of tradition, design justice embraces the challenges of thinking creatively amid seemingly intractable systems of order. Faith-based institutions have an opportunity to explore how their ideals might be drivers for decision-making about space and, through these lenses, spatial justice.
From Courthouse to Culture House: Malden Arts
Rooted in a robust community-supported and community-led visioning process, with the support of the Boston Society for Architecture and several local architecture practices, the City of Malden has developed a concept plan for a new Malden Center for Arts & Culture to be located at the site of the former Malden District Courthouse. While not a renovation of a religious building or faith-based infrastructure, the process of transforming a former courthouse into a multicultural center for the arts draws important parallels. It suggests real-world applications of the considerations of design justice that move beyond technical building repairs.
The overarching goal of the Malden Arts and Culture Center is to support artists and community members through programming and events. Artist programming will include representation from multiple artistic disciplines and practices connected to cultural expression and celebration. The center will foster opportunities for artists to share their crafts with the Malden community. Simultaneously, the center will provide opportunities for community members to engage with artistic and cultural endeavors at every stage of the creative life cycle, allowing for various levels of engagement. Driven by collaboration with diverse communities of Malden, the center will provide culturally inclusive and responsive programming in ways that highlight both the emerging and traditional forms of creative and cultural expression.
One of the key priorities from the stakeholder engagement process was the need for extensive translation and interpretation services for reaching immigrant populations in Malden. The engagement process included translating outreach materials into Malden's six most-spoken non-English languages: Spanish, Haitian Creole, Portuguese, Vietnamese, Arabic, and Simplified Chinese. Additionally, the Asian Community Development Corporation (CDC) focus group with elders was conducted through a Cantonese-speaking interpreter, and the Immigrant Learning Center staff provided support to their students in reading prompts about the center and providing feedback in English, a language that they are still in the process of learning. Each of these actions was crucial for soliciting feedback from diverse populations. Including translation and interpretation in the engagement process offered accessibility to community participation for all community members.
As the Malden Center for Arts and Culture considers design approaches to improve physical accessibility, it is also critical that the Center be accessible for non-English speakers and culturally accessible for all residents. Residents of Malden want to be represented in the building through language, cultural programming, and opportunities to share their own arts and cultural practices. Community members want to be able to participate and lead programming within the building.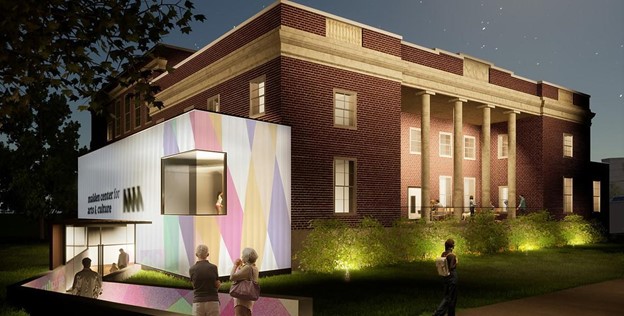 Image credit: Susi Sanchez, UX Studio. Exterior entry rendering, Malden Center for Arts and Culture. 2022.
Throughout the planning process, community members have highlighted the importance of acknowledging the history of the courthouse. Comments noted concerns over its role as spatial infrastructure in a criminal justice system that disproportionately incarcerates marginalized individuals. As the courthouse transforms into a center for community gathering, celebration, and exchange, with an emphasis on welcoming those same communities within Malden, it could be beneficial for future engagement to focus on the particular history of this courthouse.
The visualizations provided by the design team helped specify the spatial dimensions of a community's vision: to create a center that foregrounds inclusivity and collectivity and confronts the legacies of architecture's participation in the maintenance of inequities. Renderings of speculative building renovations, including the design of a newly accessible entry pavilion, encouraged conversations about priorities for design decision-making. In the image below, the formal, stepped, and monumental entry typical of an institutional building is transformed into a public plaza, accessible at grade. A newly proposed entry pavilion engages directly with the spaces of the building's more problematic past: it delivers visitors directly into the former holding cells of those awaiting entry into the criminal justice process.
Susi Sanchez, principal of minority and women-owned UX Architecture Studio and design architect for the concept phase, describes the project as follows:
Finding the right balance between preserving and building anew is challenging . . . . For the designer, the challenge is to find a balance that acknowledges the history while transforming the architecture into a welcoming, inclusive place. The existing structure has two main (but not equal) entrances. We have proposed a single, main entrance for all—one that is accessible, welcoming and outwardly communicates the creative, community-driven practice and work happening inside.
Design justice principles can help demystify exclusionary practices in architecture and make decision-making processes more accessible to those most likely to be impacted by their outcomes. In ways analogous to the Malden Arts process, architects and designers can collaborate with faith communities to create spaces that acknowledge troubling histories without erasing their narratives. They can work intentionally to create pathways for participation that honor a diversity of lived experiences as expertise. They can pursue collective and participatory approaches to restoration, renovation, and repair that do not reproduce social and cultural inequities.
Conclusion
We anticipate exploring these ways of working in continued collaborations with community organizations, municipalities, and faith-based institutions. Through the Boston Society for Architecture's Community and Collaborative Design program, we are currently involved in a collaborative partnership with Mission Grammar School in Mission Hill, a Boston neighborhood that derives its name from a landmark Basilica built by Redemptorist missionaries in the late 19th century. As the school defines its growth and trajectory, the need for more space for teaching and learning collides with a host of complex conditions and contexts including, but not limited to: historical preservation designations, spatial infrastructures that may outlast an aging pastoral leadership, and the pressures of increasing property values spurred by an accelerated housing market and the expansion of powerful neighboring medical institutions. Conversations have already started to suggest ways in which opportunistic renovations of the Redemptorists' rectory may enliven the faith community's role as an ally to its communities within and beyond the parish.
Design justice principles will inform decision-making at each stage of the collaborative process. We intend to uplift the narratives of the Mission's historical role as a community hub and resource but contextualize its presence in new ways. Working with a team of designers, we will aim to build coalitions across multiple publics, to prioritize community control and ownership of newly restored or renovated spaces, and to encourage the diocese and its decision-makers to seek opportunities beyond renovation toward processes of social and spatial justice.♦
---
R. Kyle Warren is a Ph.D. candidate in Theological and Philosophical Studies of Religion at Drew University. He currently teaches at The Boston Architectural College and is also the co-founder of Fallow, a design research collaborative based in Boston, MA.
Benjamin Peterson is the Co-Director of the Architectural Futures Group at the Boston Society for Architecture. Kyle and Ben are also the co-founders of Fallow, a design research collaborative based in Boston, MA.
---
Recommended Citation
Peterson, Benjamin and R. Kyle Warren. "Seeking Design Justice: Moving Beyond Church Repair." Canopy Forum, May 10, 2023. https://canopyforum.org/2023/05/10/seeking-design-justice-moving-beyond-church-repair/