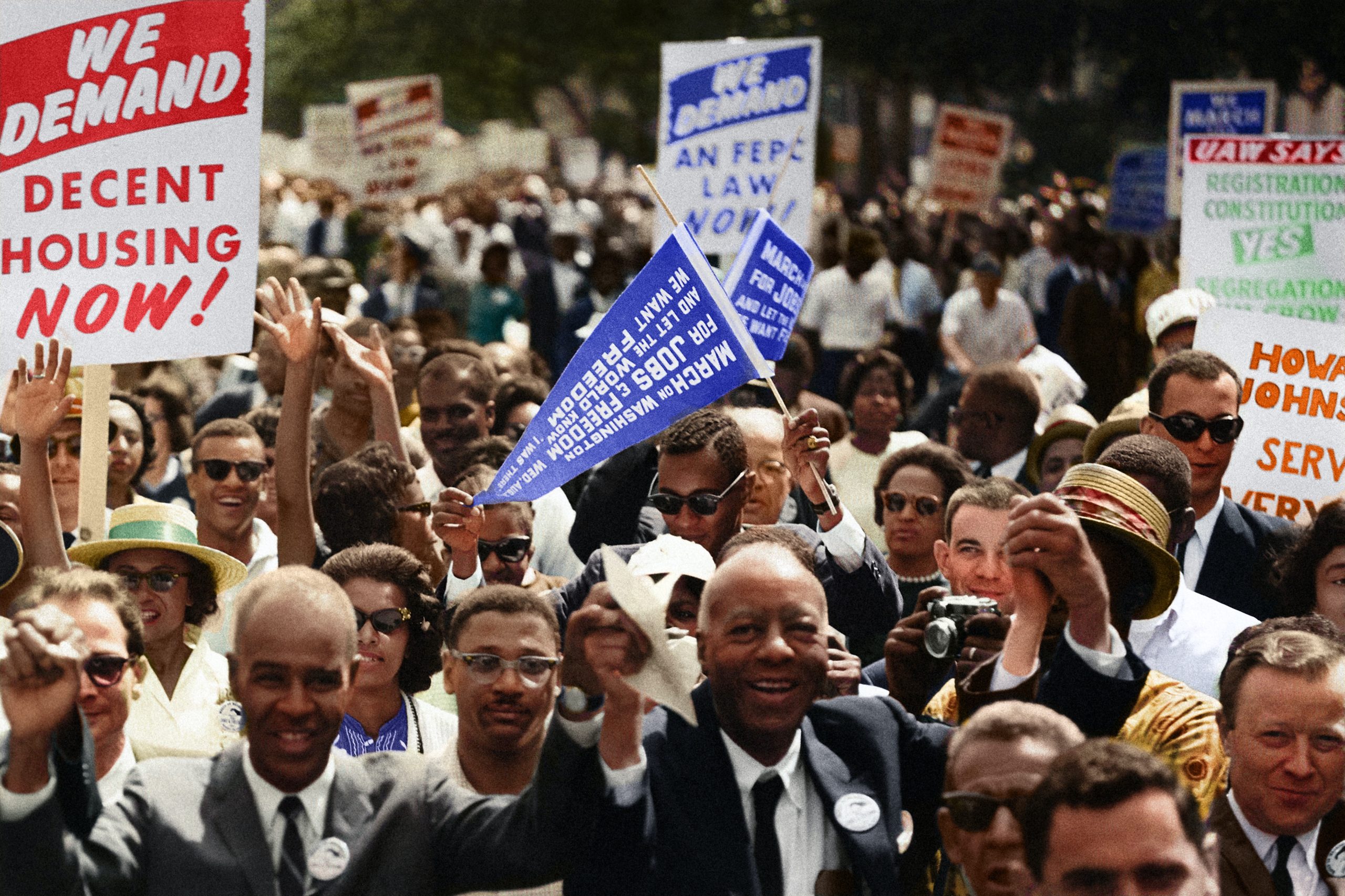 '60s Dreaming: Social Uplift Aims and Contradictions
---
R. Drew Smith
"Civil Rights March on Washington, D.C." Colorized by Jordan J. Lloyd on Unsplash.
O
n August 28, 1963, Martin Luther King, Jr. delivered from the steps of the Lincoln Memorial a speech that 60 years later possesses enduring significance for the struggle to achieve equal social opportunity as delineated within America's founding principles.
In the speech, King lifted the importance of the U.S. Constitution and the Declaration of Independence as guarantors of "unalienable rights of life, liberty and the pursuit of happiness," characterizing these guarantees as "a promissory note to which every American was to fall heir." Nevertheless, in the same breath, King criticized America for defaulting on this promise "insofar as her citizens of color are concerned."
Referencing the 1863 abolition of slavery as a missed opportunity for America to have crystalized social opportunity for African Americans, King declared:
Although significant social headway has been made since King uttered those words on the National Mall, the promise of social opportunity still largely eludes the roughly one-third of African American households currently living below the poverty threshold of $26,500. Although that is a decline from the 43 percent of African American households below the poverty line in 1963, it is still an alarmingly high rate of Black poverty (especially when compared to a White household poverty rate currently at 5 percent).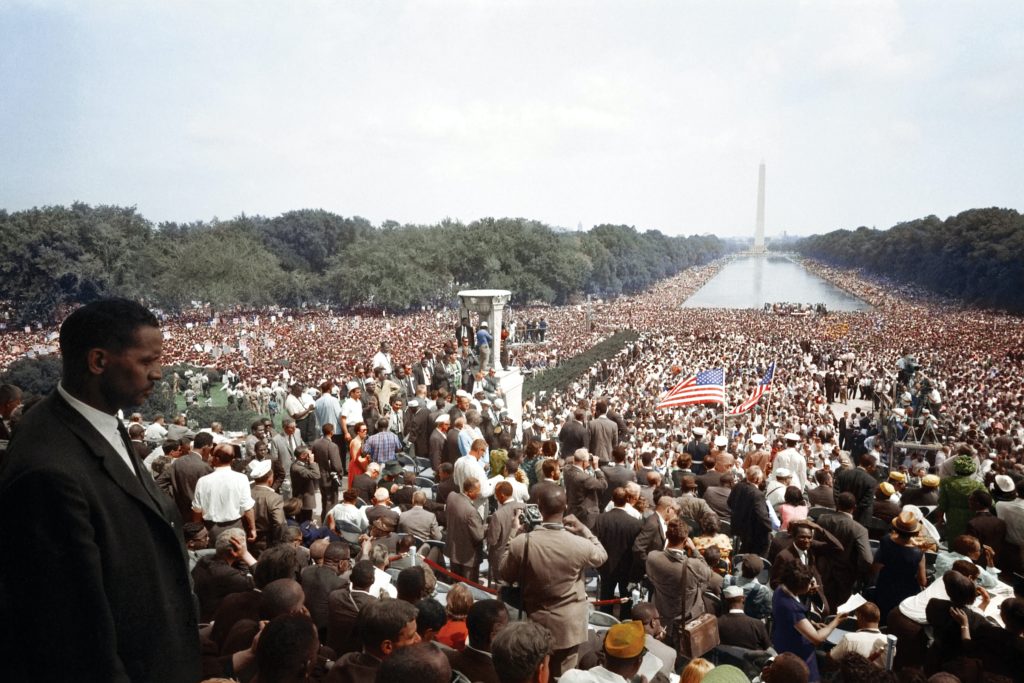 A welcomed expansion and consolidation of the Black middle class since the mid-twentieth century movement has been offset by intensifications of Black poverty and stark social disparities between the Black middle and lower classes during that time frame. Indicators of uneven Black social footing and diverging Black social prospects are important to consider when assessing the enduring traction of King's egalitarian social vision.
Diverging Social Class Prospects
Evidence of Black middle-class progress has been clear. The African American middle class, estimated by sociologist Bart Landry to be 14 percent of the Black population in 1960 was calculated to have grown nationally to 51 percent by 2002. According to Landry, this "growth" in the middle class (which he defines in terms of persons working in non-manual, white-collar jobs) traces largely to the "Civil Rights Act of 1964 and the development of affirmative action as an enforcement mechanism."
A large-scale movement into white-collar jobs is only one measurement of increased Black upward mobility and is closely related to two additional facilitators of social mobility—earnings and educational achievement. Between 1970 and the early-1990s the number of black families earning between $50,000 and $74,999 increased 4 percent and the number earning $75,000 or more increased 6 percent. Meanwhile, the percentage of African Americans with college degrees increased from six percent in 1970 to 19 percent in 2011. Approximately half, of college-educated Blacks in 2011 possessed advanced degrees (master's, doctoral, or professional degrees).
Evidence of deepening Black poverty and worsening Black social isolation is quite clear as well. As sociologist William Julius Wilson points out, from 1975 to 1992, "the average income of the lowest quintile of Black families in the United States declined by 33 percent to $4,255 and that of the second lowest quintile by 13 percent to $11,487." In an indicator of the geographies of poverty (and of its tendencies to become concentrated), the percentage of persons living in neighborhoods with a poverty rate of 40 percent or higher grew from 7.8 to 15.8 percent for Blacks from 1970 to 1990.
As constructive interactions with meaningfully employed and socially resourceful organizational networks have diminished in poor neighborhoods, interactions with the law enforcement sector have multiplied exponentially. Persons incarcerated in U.S. prisons and jails rose from roughly 200,000 in 1970 to 2.2 million in 2017, and another 4.5 million persons were under supervised parole or probation by 2018. As pointed out by the Sentencing Project, there was a 500 percent increase in the number of persons in the nation's prisons and jails between 1980 and 2020. Incarcerated Americans disproportionately have been poor and persons of color. Pew Research Center reports Black male incarceration rates increasing from 1,313 per 100,000 U.S. residents in 1960 to 4,347 per 100,000 in 2010. Similarly, black female incarceration rose from 76 per 100,000 U.S. residents in 1960 to 260 per 100,000 in 2010.
Persons entangled in the correctional system are hampered in their community re-entry and reintegration efforts by impediments including barriers to employment, housing, and voting. For example, a 2008 Bureau of Justice national survey of former prisoners showed 44 percent of Black formerly incarcerated women and 35 percent of formerly incarcerated Black men to be unemployed. The survey also placed homelessness rates for formerly incarcerated persons for Blacks at 240 per 10,000 persons released from prison. These figures contrast with lower unemployment and homelessness rates for formerly incarcerated whites and a lower homelessness rate among the U.S. general public of 21 per 10,000 persons.
For example, Black adults are more likely than adults of any other American racial-ethnic group to be categorized in fair or poor health. Black adults experience a higher incidence of obesity and hypertension than their white counterparts. Meanwhile, 14 percent of Blacks are without health insurance, as compared to roughly 9 percent of whites, contributing to less Black access to health care.
These factors contributed to African Americans being disproportionately impacted by the COVID-19 outbreak. By June 2020, COVID-related hospitalizations of Blacks surpassed hospitalizations of whites.With respect to COVID-related deaths, Blacks died from the disease at rates disproportionate to their percentage within the U.S. general population, with Blacks comprising 21 percent of COVID deaths. Although racial disparities in COVID-related deaths by race eventually narrowed, Blacks (and Hispanics) "had higher rates of death compared with white people over most of the pandemic and particularly during surges."
It is important to note, however, that COVID was an intensifier, not a creator, of social and economic vulnerabilities. The range of racial and ethnic disparities in economic, social, and health prospects delineated here have been undergirded by formalized social policies across many decades prior to the COVID pandemic.
The Public Policy Carousel
There has been important analysis of the nation's inconsistent support for mid-twentieth century policy responses on anti-poverty matters (especially along race lines). Policy analysts have drawn attention to majority-culture pushback by the 1970s to emerging policy initiatives viewed to "disproportionately benefit" Blacks and minority groups in opportunities in employment, education, job training, and child and health care. Many of the policy reversal efforts have been tied to opposition to affirmative action frameworks. Nevertheless, some reversals to the anti-poverty cause have come through initiatives purporting to advance an anti-poverty agenda.
1996 Welfare Reform Act
A key example of a presumptive anti-poverty policy with ambiguous anti-poverty values was the Personal Responsibility and Work Opportunity Reconciliation Act of 1996 (a.k.a. The Welfare Reform Act). The primary goals defined by the legislation included helping families "escape welfare" by: (1) ending "entitlement to cash welfare under title IV-A of the Social Security Act;"(2) "requiring families to make verifiable efforts to leave welfare for work and to avoid births outside marriage," (3) encouraging "the formation and maintenance of two-parent families;" and (4) imposing cutoffs on welfare benefits to "most noncitizens, families that have been on welfare for more than 5 years, and children who are judged to be disabled solely because of age-inappropriate behavior." Moreover, the federal government delegated discretionary decision-making about operations and implementation of the reformed welfare program to states through block grants.
The impact of these reforms on the poor has been hotly debated. Favorable assessments of the legislation's impact have been premised largely upon metrics of welfare caseload declines and increased employment by persons who had been on welfare. For example, a 10-year evaluation of the legislation's impact by a principal advisor on the bill, Ron Haskins, lauded the 60 percent decline between 1994 and 2004 of persons on welfare and that between 1996 and 2006 60 percent of persons leaving welfare were "employed at any given moment." Haskins also pointed out that between 1993 and 2000 earnings by low-income mothers had leaped by "136 percent to constitute almost 57 percent of income while welfare income had plummeted by nearly half to constitute only about 23 percent of income." Moreover, Haskins said, the "total income of these low-income families increased by more than 25 percent over the period" and "child poverty fell every year."
These would appear to be promising results. Nonetheless, Haskins later testified in 2015 that "deep child poverty has increased since the law's passage" and "some poor mothers and their children have neither cash welfare benefits nor earnings." Differences between Haskins' 10-year and 2-year assessment of welfare reform reflected growing evidence over time that favorable initial metrics were in many cases short-term, misleading, and attributable to factors other than those built into the legislation.
Research by former Children's Defense Fund and Center for Law and Social Policy analyst, Arloc Sherman, determined that while child poverty did decline for several years after 1996, "that decline was likely driven more by the strong economy and reforms to the Earned Income Tax Credit and Child Tax Credit than by the welfare law." He also noted a "dwindling share of families" who needed assistance actually received it and that new practices implemented by states "diverted limited . . . block grant funds away from basic income assistance." Sherman's conclusion was that the legislation "has fueled a notable increase in . . . the share of Americans who live below half of the poverty line." As Sherman points out, the share of children in this "deep poverty" rose from 1.5 million to 2.2 million between 1995 and 2005. He argues "the rise in deep poverty is directly attributable to a weakening of the safety net for the poorest families."
Medicaid Enrollment Revisions
Another troubling result of the welfare reform bill, according to studies by the Urban Institute and the National Health Policy Forum, was that it complicated Medicaid eligibility and health delivery, resulting in an overall reduction in the number of children and nondisabled adults on Medicaid" as of 1996. Also, healthcare safety net protections were greatly diminished in 2018 by the establishment of new work status preconditions for recipient Medicaid eligibility. The work requirements were intended to "push people into the labor force," but as researchers from The Hamilton Project argue, these kinds of work requirements "can undermine the insurance value of the programs . . . if people who are not working either cannot work due to individual limitations or are unable to find steady work due to economic fluctuations."
Data on the impact of work requirements on Medicaid coverage confirm major reductions in coverage. In Arkansas (the first state to implement these requirements), more than 18,000 Medicaid recipients were disenrolled from Medicaid between August and December 2018. Arkansas was the only state to implement the Medicaid work requirement for more than a few months, but if all states had moved toward implementation, Congressional Budget Office analysis suggests the requirement would have reduced Medicaid enrollment by 2.2 million recipients, with many of those persons becoming uninsured and paying more for health care,
The COVID emergency led to a policy intervention intended to decrease barriers to Medicaid access. The 2020 Families First Coronavirus Response Act included a provision requiring states "to provide continuous coverage for Medicaid enrollees in order to receive enhanced federal funding." Suspending Medicaid disenrollment prevented more potential Medicaid declines from the 2018 work eligibility requirements. Instead, Medicaid enrollment grew by an estimated 23 million between February 2020 and the end of continuous enrollment in March 2023 Those gains are expected to be completely erased as the continuous enrollment provision continues to unwind through March 2024, it is estimated that 8-24 million people could lose their Medicaid coverage by that date (with many not realizing they will need to renew their coverage).
Whatever the national figures for Medicaid coverage turn out to be in the coming months, any obstacles to quality health care and preventative care for populations in need of coverage will come with a high price to individuals and collectively to the nation—as the COVID emergency made abundantly clear.
Child Tax Credit
A more recent governmental retreat from anti-poverty commitments was its failure in 2022 to restore the expanded Child Tax Credit signed into law in March 2021 as part of the American Rescue Plan. The expansion increased the child tax credit "from $2,000 per child to $3,000 per child for children over the age of six and from $2,000 to $3,600 for children under the age of six, and raised the age limit from 16 to 17." According to analysis by the Joint Economic Committee, the expanded child tax credit "dramatically" reduced child poverty in 2021, lifting 5.3 million people out of poverty, including 2.9 million children.
Unfortunately, in the Congressional haggling in late 2022 over fiscal year funding of the federal government, the omnibus bill providing 2023 fiscal year governmental funding did not continue the expanded child tax credit. Data from Columbia's Center on Poverty shows the "monthly child poverty rate increased from 12 percent in December 2021 to 17 percent in January 2022." This represents 3.7 million more children in poverty after the expiration of the expanded tax credit at the end of 2021. The January 2022 Columbia University data also showed 25 percent of Black children in poverty as compared to 11 percent of White children.
Current efforts to revive the expanded child tax credit have encountered partisan pushback. While Congressional Democrats have been seeking to return to the 2021 framework, Republicans have been insisting upon provisions for unborn children, thereby tying support for anti-poverty policies to support for anti-abortion policies.
Meanwhile, through this and other anti-poverty policy vacillations, low-income children and families endure a dizzying policy ride, circling them into more deeply entrenched poverty and social isolation.
Dreams and Awakenings
As the data shows, there are wide variances in the extent to which social opportunity, and the freedoms it signifies, has been realized from one American to another. King became increasingly aware of that point. In the months prior to his 1968 assassination, King was organizing a Poor People's Campaign that was to eventuate in another kind of mass protest at the National Mall, a Tent City occupation of the Mall as part of a broader campaign to draw national attention to and mobilize a national response to American poverty. King's presence in Memphis alongside striking sanitation workers at the time of his death was an act of solidarity in line with this national anti-poverty campaign.
King's vision of a very different 1968 return to the National Mall took place without him during the summer of 1968, but the words of his speech five years earlier still hung in the air. King proclaimed in 1963: "Let freedom ring" (a freedom manifesting in social opportunity) from every hill, valley, molehill, and mountainside.
Nevertheless, 60 years after King's speech and 55 years after the Tent City occupation of the National Mall, the fight for freedom in the form of social and economic opportunity is far from over. Those freedoms have yet to stream into the harder to reach places—places where persons remain trapped by poverty and social neglect.
---
R. Drew Smith is a political scientist and Baptist minister, serving as the Henry L. Hillman professor of Urban Ministry and previously as Metro-Urban Institute director at Pittsburgh Theological Seminary. His research and teaching are in the areas of religion and public life, and his most recent book is Racialized Health, COVID-19, and Religious Responses: Black Atlantic Contexts and Perspectives, edited with Stephanie C. Boddie and Bertis D. English (Routledge 2022).
---
Recommended Citation
Smith, Drew. "'60s Dreaming: Social Uplift Aims and Contradictions." Canopy Forum. October 5, 2023.
canopyforum.org/2023/10/04/60s-dreaming-social-uplift-aims-and-contradictions/.