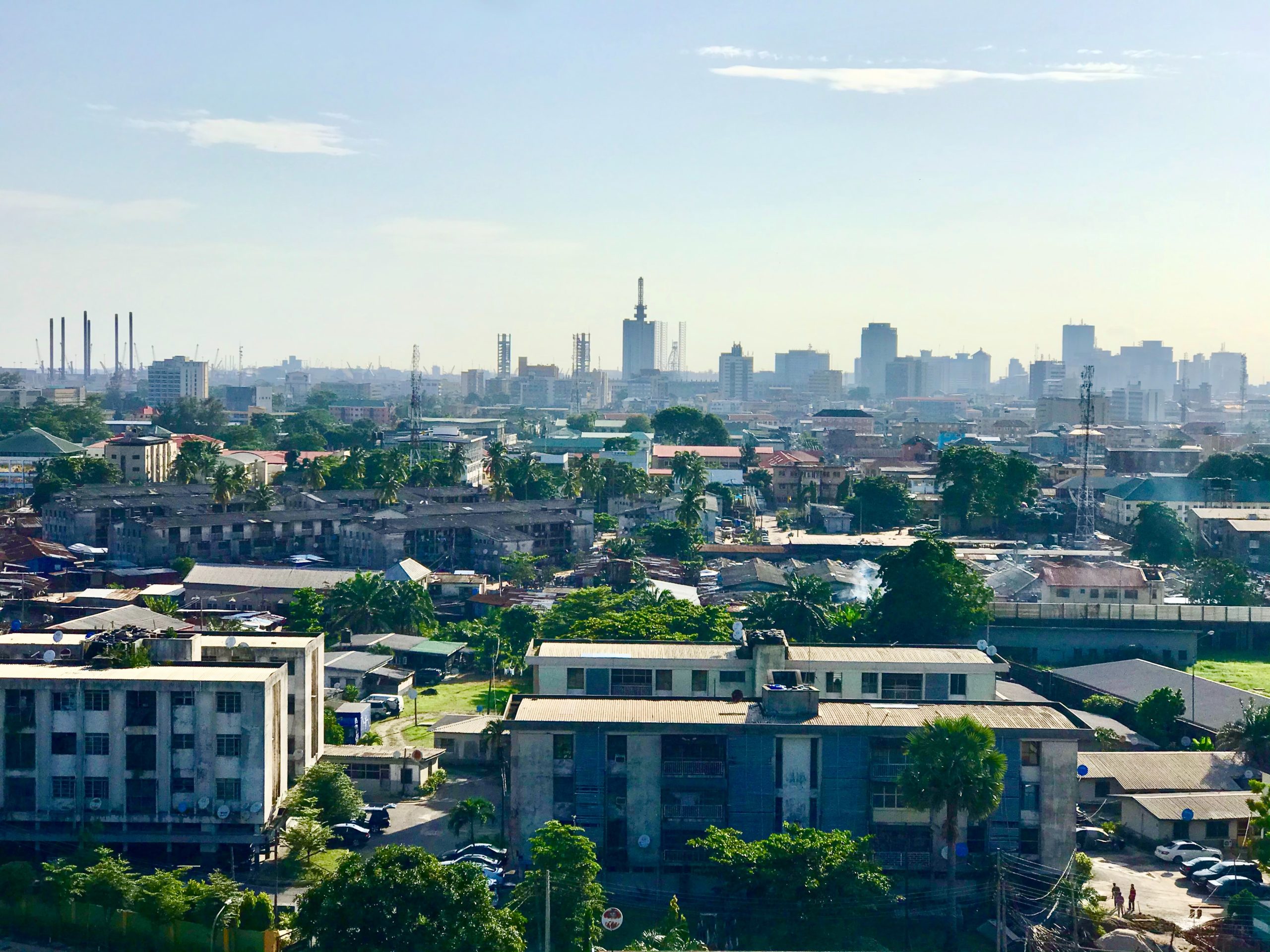 Death Sentence and Imprisonment under Nigerian Blasphemy Laws
---
Georgia du Plessis
"Okotie Eboh Street, Lagos, Nigeria" by Obinna Okerekeocha on Unsplash.
Blasphemy is the "act of insulting or showing contempt or lack of reverence for God" and laws upholding blasphemy as a crime fail to respect the human right to freedom of expression and freedom of religion. Deborah Emmanuel Yakubu (also known as Deborah Samuel) was stoned and burned to death for posting messages on WhatsApp allegedly insulting and blaspheming against the Prophet Mohammed. The incident received international attention.
The reasons for such atrocities and the surging violence and conflict in Nigeria are undoubtedly complex. Yet, blasphemy laws have exacerbated and provided momentum for the situation, the "blasphemy"-inspired vigilantism against Deborah Yakubu being a case in point. Another is that of a young Nigerian Sufi musician, Yahaya Sharif-Aminu – a case which presents the first opportunity for these dangerous blasphemy laws to be challenged in the apex court of Nigeria.
The Case of Yahaya Sharif-Aminu
Sharif-Aminu was sentenced to death and his family home burned after sharing the lyrics he composed on social media deemed blasphemous towards the Prophet Mohammed. He was first arrested and charged with blasphemy in March 2020. Despite not having legal representation at the time, he was convicted in August 2020, by the Hausawa Filin Hockey upper-Sharia court. In November 2022, he filed a notice of appeal at the Supreme Court of Nigeria challenging Kano State's blasphemy law, which carries a mandatory death sentence. The blasphemy law at issue mandates a penalty of death by hanging for any Muslim found guilty of insulting the Quran or any Muslim prophet.
While his conviction was overturned at a prior appellate level in January 2021, Sharif-Aminu was ordered to a re-trial instead of having his case dismissed. If he were to be re-tried in sharia court, however, he would likely be convicted and sentenced to death again. Justice for Sharif-Aminu, and a potential end to the draconian blasphemy law regime, is thus rightfully in the hands of the country's highest court. The Supreme Court appeal challenges the constitutionality of the strict blasphemy law of Kano State and will be the first time such a blasphemy law is challenged at the Supreme Court of Nigeria. Sharif-Aminu's defense will argue that the law not only violates the Nigerian Constitution, but also international treaties to which Nigeria is a party. He remains in prison without bail while awaiting the retrial.
Legal and political context
Nigeria is one of only seven countries in the world—including Pakistan, Iran, Afghanistan, Brunei, Mauritania, and Saudi Arabia—with criminal blasphemy laws for which a person can be sentenced to death. These laws also exist in the twelve northern Nigerian states, which incorporated sharia into their criminal codes roughly 20 years ago. Such laws often mandate the penalty of death by hanging for insulting the Quran or any Muslim prophet. This is a flagrant violation of the international right to freedom of religion or freedom of expression (especially Articles 18 and 19 of the International Covenant on Civil and Political Rights and the African Charter) and a grave act of censorship.
Northern Nigeria's blasphemy laws violate not only international law, but also the Nigerian Constitution, and should be deemed unlawful by the country's Supreme Court. The Nigerian Constitution protects the freedoms of thought, conscience, religion, and expression and prevents both federal and state governments from adopting a state religion. Notably, while the constitution permits sharia, it only allows for its use in personal law matters, such as marriage. Kano State's blasphemy law, by contrast, allows for no theological diversity among Muslims and could be used to target converts to other religions or beliefs.
International outcry
The international community has not been silent and Sharif-Aminu knows it. Carlo Fidanza, Member of the European Parliament (MEP), during a European Parliament debate on 15 December 2022, highlighted and deplored the situation in Nigeria as well as this specific case. Shortly thereafter, on 20 April 2023, the European Parliament adopted, almost unanimously, an urgency resolution on the "risk of death penalty and execution of singer Yahaya Sharif-Aminu for blasphemy in Nigeria" where several MEPs condemned the position of Yahaya. For example, MEP Bert-Jan Ruissen (Netherlands) stated that "the ruling could have far-reaching consequences…The mere existence of blasphemy laws encourages mass violence against people accused of blasphemy, often before the police and judicial authorities can intervene…" Additionally, MEP György Hölvényi (Hungary) stated that "Blasphemy laws and Sharia provisions undermine human rights in Nigeria, particularly freedom of religion and freedom of expression…" Yahaya's national lawyers have reported that Yahaya has been shown the European Parliament's condemnation of his situation and that he was very encouraged by it.
In addition to the European Parliament effort, United Nations human rights experts have urged the Nigerian government to overturn the death sentence for Sharif-Aminu saying that the "application of the death penalty for artistic expression or for sharing a song on the Internet is a flagrant violation of international human rights law, as well as of Nigeria's constitution." The European Parliament also highlighted the blasphemy laws in Nigeria in its Intergroup on Freedom of Religion or Belief and Religious Tolerance 2021 Report and more generally in the 2022 Report on the Persecution of minorities on the grounds of beliefs or religion. Furthermore, UK Special Envoy for Freedom of Religion or Belief, Fiona Bruce, has condemned this situation and called for others to speak out.
Other responses to the matter
Responses to Nigerian blasphemy laws have not always been this unified. Some have been of the opinion that, although blasphemy laws are against international law, its removal is not likely. In 2022, the United States Commission on International Religious Freedom (USCIRF) expressed outrage due the US State Department's omission of Nigeria from its list of Countries of Particular Concern (CPC's). USCIRF continues to recommend Nigeria as a CPC.
In May 2022, as mentioned above, Deborah Yakubu, a Christian college student in Sokoto, was stoned and beaten to death by her classmates, and her body burnt, because of blasphemy allegations based on her Christian beliefs. In contradiction to the urgency resolution condemning blasphemy laws in Nigeria, the European Parliament rejected a motion to debate the murder of Yakubu by a vote of 231 in support and 244 against. In protest over the severe atrocity and the refusal by the European Parliament to take action, MEPs shouted "shame on you" across the plenary floor. The Executive Vice President of the European Commission stated that the root causes of insecurity in Nigeria are not based on religion but mainly due to local circumstances, competition for scarce resources, little education and unemployment. This is paradoxical as the European Parliament rejected the vote on the same day that it hosted an event with the couple Shafqat Emmanuel and Shagufta Kausar, who were both sentenced to death in Pakistan on blasphemy charges and kept on death row for 7 years.
Why This Matter is Urgent
Despite some differences in responses, it remains that many people have been significantly harmed under Nigeria's blasphemy laws and deprived of various human rights, including the right to freedom of expression and the right to freedom of religion. Besides the cases of Sharif-Aminu and Yakubu, humanist Mubarak Bala was sentenced in April 2022 to 24 years in prison on religious insult charges based on social media posts. Rhoda Jatau is a Christian woman who posted on social media a statement condemning the violence against Yakubu. She faced mob attacks, is currently on trial without bail for religious insult and has been held in detention incommunicado for well over a year. Most recently, Usman Buda, a Muslim butcher, was stoned to death by a mob who accused him of alleged blasphemy.
Sharif-Aminu's lawyer, Kola Alapinni, at the 2023 International Religious Freedom Summit, appealed to everyone to "stand up for Yahaya". Should the case proceed to a hearing at the Supreme Court of Nigeria, the potential exists that international advocacy and diplomacy can contribute to the Court declaring Kano State's blasphemy law unconstitutional and in violation of international law. More specifically, it has the real potential to lead to the release of Yahaya Sharif-Aminu, and save not only his life, but possibly the lives of others who face similar allegations. ♦
---
Georgia du Plessis completed her LL.B and Master's in South Africa and obtained her PhD (in law) specializing in religious freedom rights. She has published academic articles on the right to freedom of religion or belief in journals such as the Journal of Church and State, Human Rights Review, and Journal of Religious History. She is currently a legal officer at ADF International and research fellow at the University of Antwerp (Belgium) and the University of the Free State (South Africa).
---
Recommended Citation
Plessis, Georgia. "Death Sentence and Imprisonment under Nigerian Blasphemy Laws." Canopy Forum, October 13, 2023. https://canopyforum.org/2023/10/13/death-sentence-and-imprisonment-under-nigerian-blasphemy-laws/.