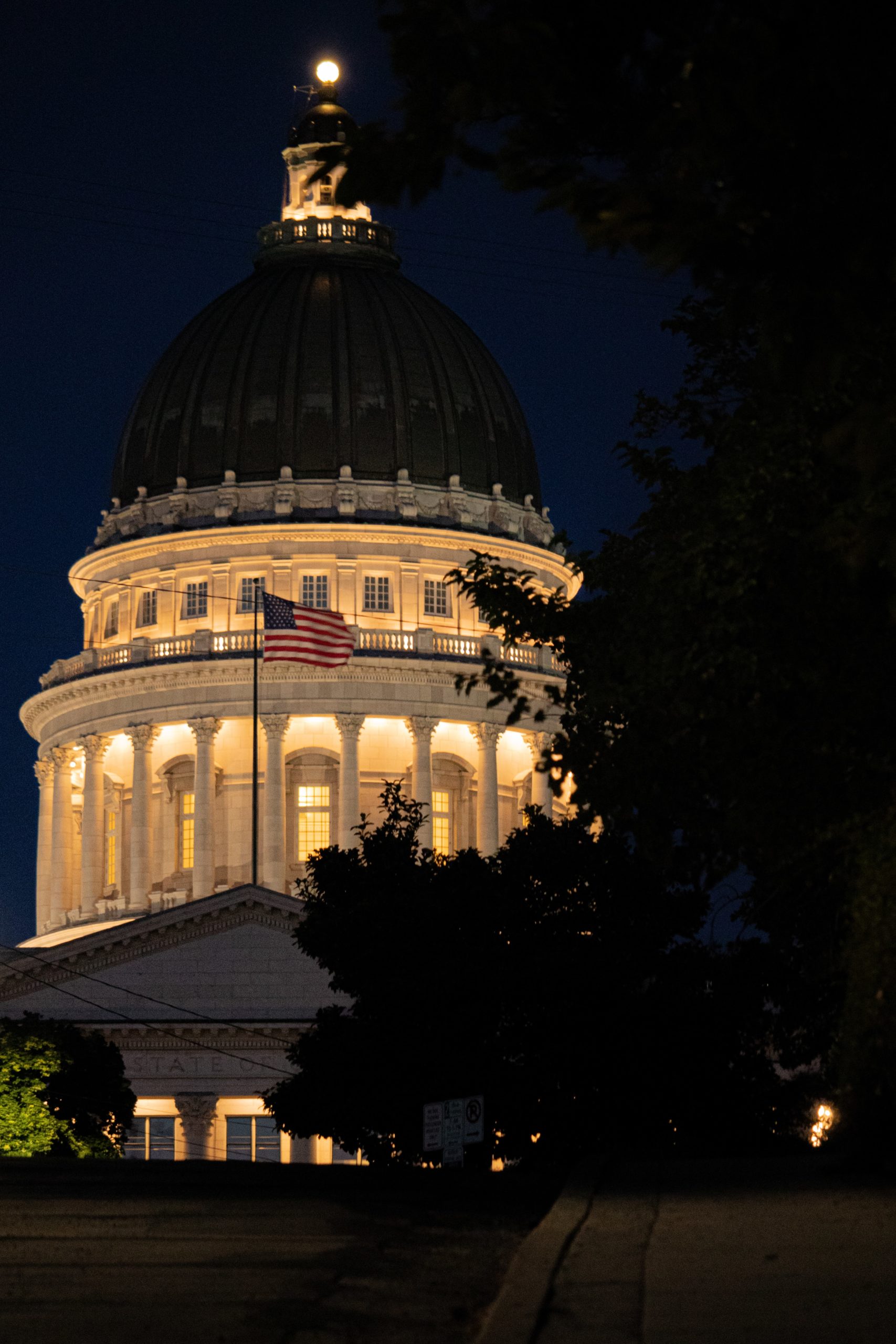 Capitol Riots Just One More Example of Racial Injustice in the U.S.
---
Amin Sadri
The Utah State Capitol by Garrett. (CC BY 2.0).
---
This article is part of our "Chaos at the Capitol: Law and Religion Perspectives on Democracy's Dark Day" series.
If you'd like to check out other articles in this series, click here.
---
This past Wednesday, a mob of Trump supporters — incited and emboldened multiple times by the President of the United States and his family — broke into the Capitol Building during a joint session of Congress and proceeded to loot the congressional offices. Composed of white nationalists and far-right conspiracy theorists, the rioters were met by minimal resistance. Yet months ago, in front of that same building, protesters objecting to the extrajudicial killing of black lives were met with hundreds of armed military personnel in combat gear and faceless masks. Weeks ago, the Proud Boys, a white supremacist group that has made their presence known at many of these rallies, was in the middle of inciting a riot when they stole a Black Lives Matter sign from Asbury United Methodist Church in Washington, D.C. and set the sign on fire in front of the church. And in June of last year, President Donald Trump walked across the street from The White House to St. John's Church for a photo op — where only moments prior, peaceful protesters had been cleared from the streets with tear gas, pepper spray, and other weapons reserved for riots.
These instances by themselves may feel like an aberration, but they're not. When juxtaposed next to one another, the disparate treatment of these groups becomes impossible to ignore. At the end of the day, the wildly different response by authorities to one group espousing white supremacy and to another in favor of racial equality is, in fact, nothing new.
On March 7th, 1965, John Lewis and hundreds of others attempted to complete their march to Montgomery, Alabama across the Edmund Pettus Bridge in Selma, Alabama. As they crossed the bridge — named after the former U.S. Senator and leader of the Alabama Ku Klux Klan — they were met with mounted police, clubs, and tear gas. Martin Luther King Jr. and others would attempt a second march, even larger than the first, a few days later. However, they stopped short of crossing Pettus Bridge as there was a federal injunction in place seeking protection for the march. It is hard to imagine any of the people who marched on the Capitol Building days ago having stopped due to a federal injunction, but this compliance was expected of King.
In 1958, long before schools were closed due to a pandemic, U.S. Senator Harry F. Byrd concocted a plan to unite white politicians and leaders in Virginia against the efforts to desegregate schools after the Supreme Court decision in Brown v. Board of Education. Dubbed "massive resistance," Byrd organized with hundreds of others to systematically block the desegregation of schools not only in Virginia, but throughout the South. The result was that beginning in 1958, some schools and even entire counties in Virginia shuttered their doors for nearly two years until federal lawsuits were successful in having the schools reopened. Even then, local politicians worked to manipulate finances to try to keep those schools closed. The students most harmed by the "massive resistance" were those from poorer schools whose parents could not provide any kind of supplementary education while the schools were closed. Currently, some are demanding that schools be opened fully in the middle of a pandemic that has claimed more than 300,000 lives, while less than 70 years ago, schools were forcibly shut down to prevent a black child and white child from sitting in the same classroom.
In the late 1800s during reconstruction in Atlanta, newly-freed slaves were forced to construct for themselves their own schools, hospitals, and businesses to support a new and free way of life. The historic South-View Cemetery, a cemetery founded by nine Black businessmen in 1886, was to provide family members a place to bury their dead in peace. More than 80,000 black people claim South-View as their final resting place. The cemetery has gone on to be the final resting place of civil rights icons like Julian Bond and John Lewis, as well as Reverend Dr. Martin Luther King Jr. for a time. For those years where Dr. King was interred at South-View before his current Memorial site was ready, white supremacists would drive past and shoot at the headstone. The Martin Luther King Jr. National Historical Park where he is now buried sits just blocks away from Ebenezer Baptist Church, the very Church where Dr. King and his father would preach in Atlanta.
Regrettably, until individuals begin actively working to fix the problems of the present, we only have the promise of a better future. Though they are few and far between these days, we must celebrate the small bright spots. This cycle saw the election of Kamala Harris as Vice President, a first in many ways for the United States. The U.S. Senate is likely to have its first Jewish Majority Leader with Senator Chuck Schumer and its first Indigenous person Cabinet secretary with the confirmation of Rep. Deb Haaland. In fact, throughout the country, people of all backgrounds have been breaking boundaries even as white supremacists rage on. However, it was only the night before the riot at the Capitol Building that Georgia elected its first Black U.S. Senator when Reverend Raphael Warnock won his runoff race. As Dr. King was, Reverend Warnock is the senior pastor for Ebenezer Baptist Church.
I do not know what Dr. King imagined when he said that "we've got some difficult days ahead." However, as true today as it was in 1968 when he said it: "We, as a people, will get to the promised land." I just wish we would get there sooner. ♦
---
Amin Sadri is a graduate of both Emory Law and CSLR's Law and Religion program. His work focuses on law and religion, constitutional law, and international law issues.
---
Recommended Citation
Sadri, Amin. "Capitol Riots Just One More Example of Racial Injustice in the U.S.." Canopy Forum, January 11, 2021. https://canopyforum.org/2021/01/11/capitol-riots-just-one-more-example-of-racial-injustice-in-the-u-s/